E-Waste Recycling Done With Ease
Clean Out Your Office will come right into your office and with no disruption to your business or operations, take away your e-waste. Office electronics of all types are accepted, ranging from old fax machines to computer monitors.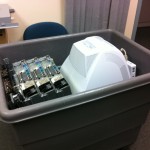 Another thing that people have been increasingly concerned with is hard-drive destruction. No more worries about your personal information getting into the wrong hands. Clean Out Your Office will shred your disk-drives and provide a certificate of disk drive data destruction, leaving you with peace of mind.