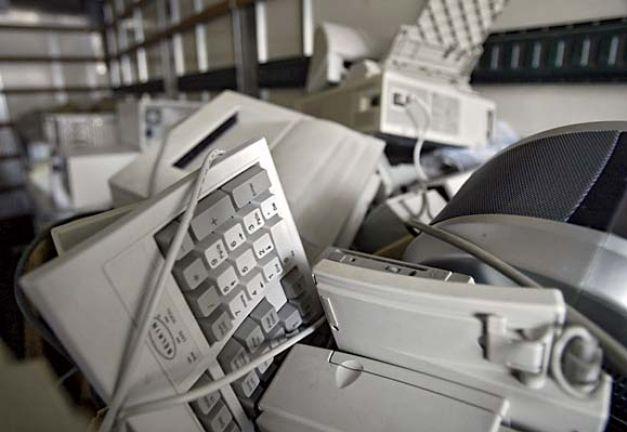 We take all computers and electronics! E-waste and computer recycling has never been this easy! For many of our customers, we offer free computer recycling.
The majority of our pickups are NO CHARGE. We offer free pickups and e-waste recycling for large amounts of materials including: computers, servers, laptops, cell phones, phone systems, BBU,  copiers, printers, networking equipment,  switches, monitors, and more. In addition, we also quote reasonable rates for small pickups.
We serve throughout the Greater Boston Area and southern New Hampshire.
All items are recycled to EPA regulations. A certificate of proper recycling is provided to all clients.
Certified Disk Drive Destruction is also available upon request.
Request a FREE quote now!
Call 978-263-1072 or email us now!
We proudly serve all of Massachusetts and Southern New Hampshire including, but not limited to the cities and towns listed on our website.
We offer computer and electronics recycling to the Financial District in Boston, MA weekly.
Massachusetts
Acton
Town of Acton
Acton Recycling Regulations
Acton on Wikipedia
Allston
City of Allston
Allston Recycling Regulations
Allston on Wikipedia
Bedford
Town of Bedford
Bedford Recycling Regulations
Bedford on Wikipedia
Belmont
Town of Belmont
Belmont Recycling Regulations
Belmont on Wikipedia
Billerica
Town of Billerica
Billerica Recycling Regulations
Billerica on Wikipedia
Boston
City of Boston
Boston Recycling Regulations
Boston on Wikipedia
Brookline
City of Brookline
Brookline Recycling Regulations
Brookline on Wikipedia
Burlington
Town of Burlington
Burlington Recycling Regulations
Burlington on Wikipedia
Cambridge
City of Cambridge
Cambridge Recycling Regulations
Cambridge on Wikipedia
Chelmsford
Town of Chelmsford
Chelmsford Recycling Regulations
Chelmsford on Wikipedia
Chelsea
City of Chelsea
Chelsea Recycling Regulations
Chelsea on Wikipedia
Concord
Town of Concord
Concord Recycling Regulations
Concord on Wikipedia
Everett
City of Everett
Everett Recycling Regulations
Everett on Wikipedia
Framingham
Town of Framingham
Framingham Recycling Regulations
Framingham on Wikipedia
Lexington
Town of Lexington
Lexington Recycling Regulations
Lexington on Wikipedia
Lincoln
Town of Lincoln
Lincoln Recycling Regulations
Lincoln on Wikipedia
Lowell
City of Lowell
Lowell Recycling Regulations
Lowell on Wikipedia
Lynn
City of Lynn
Lynn Recycling Regulations
Lynn on Wikipedia
Malden
City of Malden
Malden Recycling Regulations
Malden on Wikipedia
Marlborough
City of Marlborough
Marlborough Recycling Regulations
Marlborough on Wikipedia
Maynard
Town of Maynard
Maynard Recycling Regulations
Maynard on Wikipedia
Medford
City of Medford
Medford Recycling Regulations
Medford on Wikipedia
Natick
Town of Natick
Natick Recycling Regulations
Natick on Wikipedia
Needham
Town of Needham
Needham Recycling Regulations
Needham on Wikipedia
Newton
City of Newton
Newton Recycling Regulations
Newton on Wikipedia
Norwood
Town of Norwood
Norwood Recycling Regulations
Norwood on Wikipedia
Peabody
City of Peabody
Peabody Recycling Regulations
Peabody on Wikipedia
Quincy
City of Quincy
Quincy Recycling Regulations
Quincy on Wikipedia
Revere
City of Revere
Revere Recycling Regulations
Revere on Wikipedia
Saugus
Town of Saugus
Saugus Recycling Regulations
Saugus on Wikipedia
Somerville
City of Somerville
Somerville Recycling Regulations
Somerville on Wikipedia
Sudbury
Town of Sudbury
Sudbury Recycling Regulations
Sudbury on Wikipedia
Waltham
City of Waltham
Waltham Recycling Regulations
Waltham on Wikipedia
Watertown
City of Watertown
Watertown Recycling Regulations
Watertown on Wikipedia
Wayland
Town of Wayland
Wayland Recycling Regulations
Wayland on Wikipedia
Wellesley
City of Wellesley
Wellesley Recycling Regulations
Wellesley on Wikipedia
Weston
Town of Weston
Weston Recycling Regulations
Weston on Wikipedia
Woburn
City of Woburn
Woburn Recycling Regulations
Woburn on Wikipedia
Worchester
City of Worcester
Worcester Recycling Regulations
Worcester on Wikipedia
New Hampshire
Amherst
Town of Amherst
Amherst Recycling Regulations
Amherst on Wikipedia
Bedford
Town of Bedford
Bedford Recycling Regulations
Bedford on Wikipedia
Derry
Town of Derry
Derry Recycling Regulations
Derry on Wikipedia
Hollis
Town of Hollis
Hollis Recycling Regulations
Hollis on Wikipedia
Hudson
Town of Hudson
Hudson Recycling Regulations
Hudson on Wikipedia
Litchfield
Town of Litchfield
Litchfield Recycling Regulations
Litchfield on Wikipedia
Londonderry
Town of Londonderry
Londonderry Recycling Regulations
Londonderry on Wikipedia
Manchester
City of Manchester
Manchester Recycling Regulations
Manchester on Wikipedia
Merrimack
Town of Merrimack
Merrimack Recycling Regulations
Merrimack on Wikipedia
Nashua
City of Nashua
Nashua Recycling Regulations
Nashua on Wikipedia
North Hampton
Town of North Hampton
North Hampton Recycling Regulations
North Hampton on Wikipedia
Pelham
Town of Pelham
Pelham Recycling Regulations
Pelham on Wikipedia
Portsmouth
City of Portsmouth
Portsmouth Recycling Regulations
Portsmouth on Wikipedia
Salem
Town of Salem
Salem Recycling Regulations
Salem on Wikipedia
Windham
Town of Windham
Windham Recycling Regulations
Windham on Wikipedia